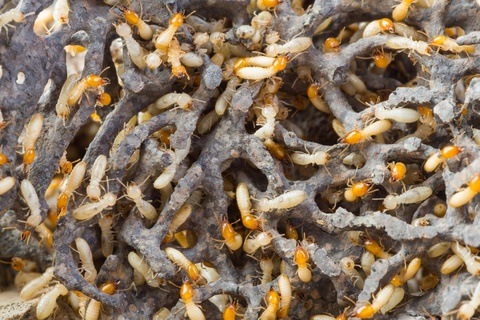 Termites are among the most damaging and costly of all insect pests. These pests cause 5 billion dollars of damage to structures in the United States every year.
One reason termites cause so much damage is that most homeowners are completely unaware their home is infested by these hidden pests. Typically it takes a new colony three to five years before it starts producing winged swarmers, the sign homeowners are most likely to see. By the time the swarmers are seen, substantial damage may have occurred. Worse yet, often an indoor colony releases swarmers outdoors, so the home-owner may never see them.
How fast do termites work? A typical mature colony of 240,000 subterranean termites (some colonies are much larger) consumes an average of about 20 grams of wood in a 24 hour period. This converts to about 16 pounds of wood each year per colony, which gradually weakens a structure.
Termites are like a slow-spreading cancer. It's much better to catch the problem early, and control it then. That's why it's so important to have us do a regular, professional inspection to detect these and other wood-destroying pests, as part of a preventative maintenance program to protect your investment in your home.
Catching these pests sooner rather than later means you spend less controlling them. Additionally, often we catch them before they have done substantial damage, saving you thousands of dollars in repair costs.
Posted by admin
On October 23, 2019
0 Comments