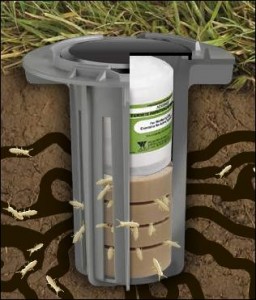 Since the mid 1990's, termite baiting has become a trusted method of environmentally friendly termite control. The Advance Termite Baiting method also means termite extermination can be accomplished without drilling into flooring or concrete inside or outside your home, and without using liquid pesticides. This makes termite baiting an ideal alternative to liquid treatments for homes with ceramic tile or concrete work where extensive drilling could become expensive.
The termite baiting systems works by effectively reducing the termite population around your home. The Advance Bait System contains a cellulose matrix (Puri-Cell™) which is highly palatable to termites. Once termites begin to feed on the bait more termites become attracted to the desirable bait.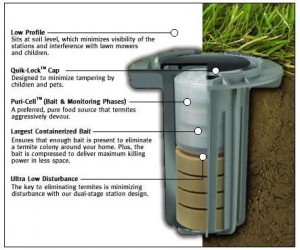 The latest advancement in termite bait technology via a dual-stage process that features an ultra low disturbance design to pattern termite's natural feeding behavior, leading to enhanced colony elimination.
A unique second food source (Puri-Cell™) preferred in studies by termites over the wood used in most homes and alternative bait systems.
A very large containerized bait load, which allows for maximum bait to be fed to the colony in a shorter time to eliminate termite colonies faster, giving you peace of mind.
A sturdy station designed to minimize tampering/damage from lawnmowers, children and pets.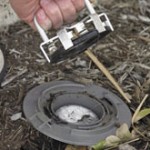 Stations are installed in the soil around the perimeter of your home and in areas we find conducive to termite infestation. These stations are monitored periodically throughout the year for termite activity. When termites attack a bait station, we apply a bait cartridge into the active station, and termites immediately begin to feed. The active ingredient is a slow-acting insect growth regulator that is passed through the colony members, causing the termite population around your home to be reduced. The effect is similar to a termite liquid treatment. If at any time a new infestation is found, the bait canisters in the stations are re-inserted until the new colony is eliminated. In this way, no pesticides are used unless there's actually a problem being treated. This is in the best tradition of earth-friendly, environmentally-sound Integrated Pest Management (IPM).
Call (770) 938-3400 Free Inspection and Quote