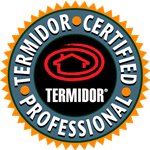 Termidor® is a non-repellent termiticide, meaning that termites in and around your home are not repelled by the effects of the treatment. Since the termites are unable to smell, taste, or see Termidor, the termites do not avoid the treatment. This means that termites, that are already in the soil around your home, will inevitably begin to tunnel through the treated soil and begin to die. Also because Termidor is designed specifically to work slowly termites do not die quickly, instead, Termidor works with the biology of the termite. Termites continually manipulate the soil with their mouths and consume the termiticide. Then as termites begin to feed and clean each other the termiticide is transferred throughout the colony and eliminates a greater number of termites. This process is called the Termidor "Transfer Effect™".
Ongoing field trials by the United States Department of Agriculture – Forest Service show no signs of termite damage in covered slab plots treated with Termidor WG at labeled rates for more than 14 years after treatment—results no other commercially available termite control product can match.
How is Termidor applied to my home for termites?
Expest technicians will apply Termidor to the soil along foundation walls to create a continuous barrier around your home. Technicians will dig a small trench, about 6 to 8 inches wide, around the base of your home. As the trench is replenished the soil is treated with Termidor, creating a zone of treated soil around the foundation of your home. If termites which are in the soil around your home attempt to enter your house they will have to enter the treated zone of soil and thereby be eliminated. The application method is called "trenching" or "trenching and rodding," and may sometimes require drilling holes through slabs or other hard surfaces adjacent to the foundation of your home for maximum protection. This is a more in-depth process than a termite bait system, which takes a different approach. Depending on specific situations, proper treatment may require interior areas or slabs of your home be drilled with small 1/4 or 1/2 inch drill holes, which are patched immediatey after treatment. How fast will Termidor work to eliminate termites?
Termidor applied according to label directions has provided 100% control of infesting termites in three months or less after treatment. Contact us today to get more information on this termite control treatment.